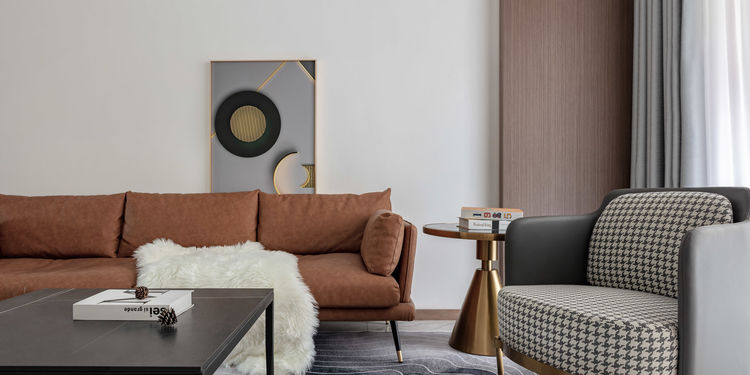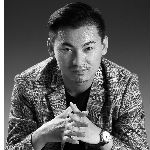 壹品唯创设计 | 首发 | 现代风诠释生活质感
壹品唯创设计 | 首发 | 现代风诠释生活质感
在沉静的色调里将现代都市的时尚与轻奢演绎
以流畅的线条
打造简约而不失时尚的空间格调
让艺术生活化,让生活艺术化
In the quiet tone, the fashion and light luxury of modern city will be deduced
With smooth lines
Create a simple and fashionable space style
Make art life and life art
· 户型图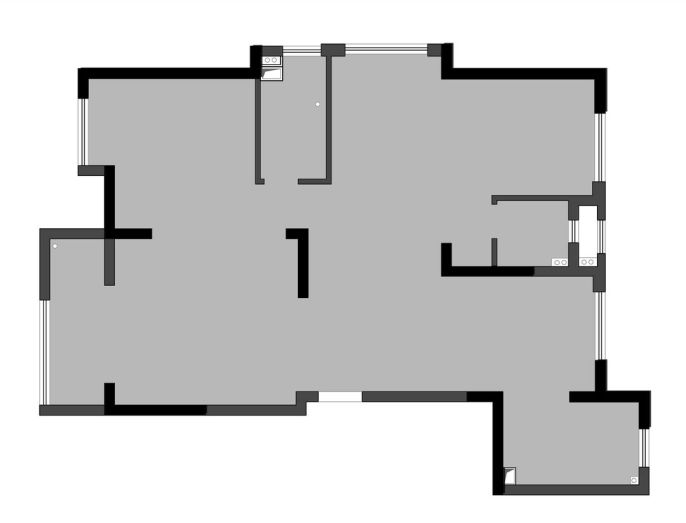 -原始图-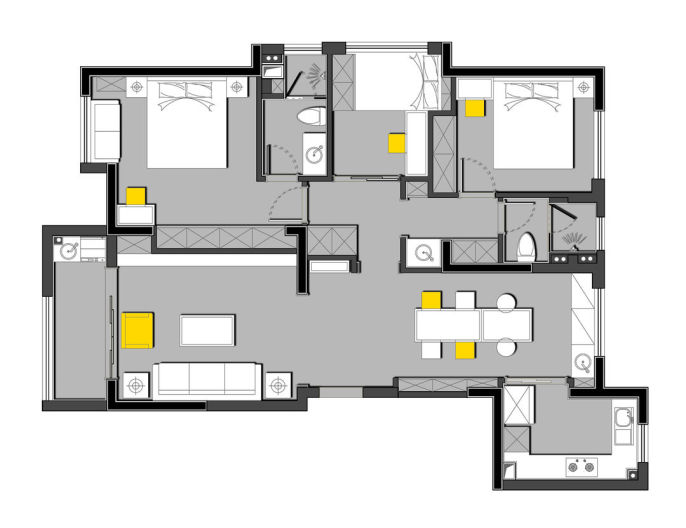 -平面图-
· 玄关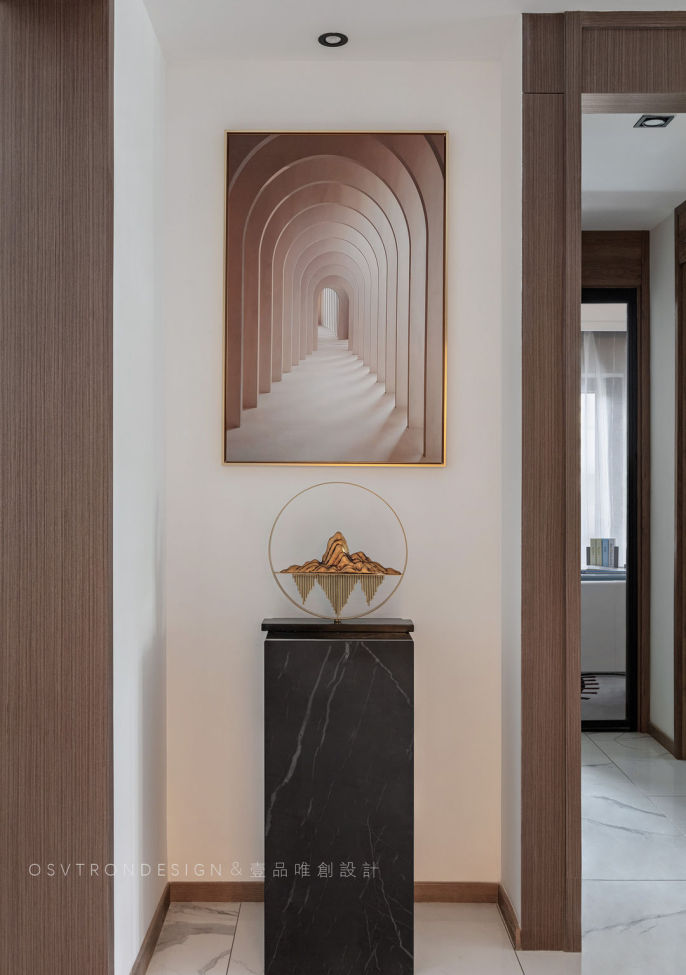 VESTIBULE
玄关
-
玄关处摆设了极具艺术氛围的挂画和立体感的摆设,在壁灯的照应下,整体空间打造的更具现代摩登感。
The porch is decorated with hanging pictures with artistic atmosphere and three-dimensional decoration. Under the illumination of wall lamp, the overall space is more modern.
· 客厅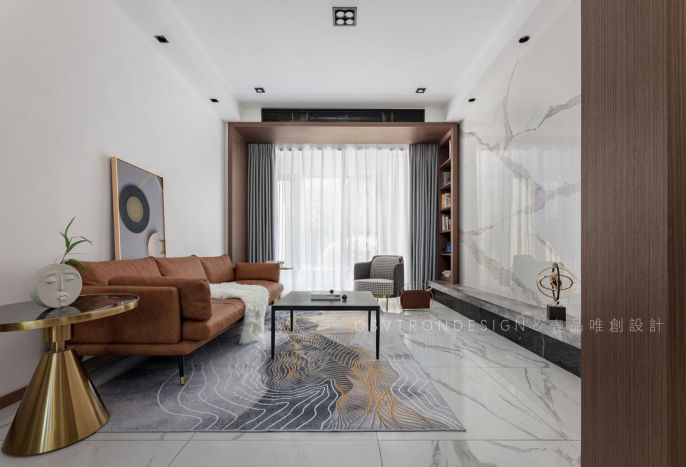 LIVINGROOM
客厅
-
客厅以简单的结合造型为主,大气的颜色搭配带来的明媚感将整个客厅的拘谨一扫而空,让客厅显得既沉稳而又不失时尚。
The living room is based on simple combination modeling. The bright feeling brought by the atmospheric color collocation sweeps away the strictness of the whole living room, making the living room appear both calm and fashionable.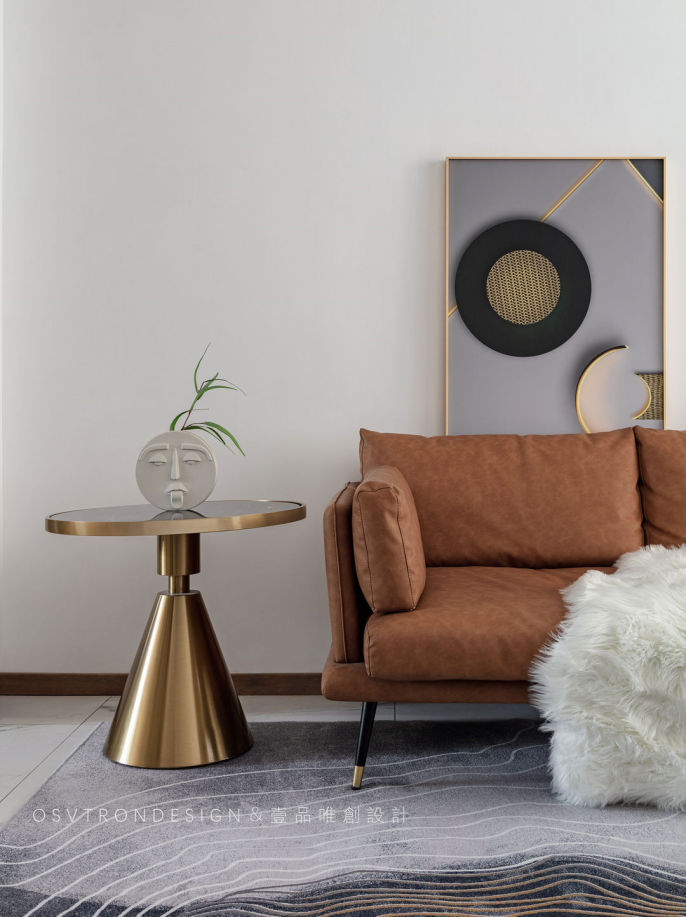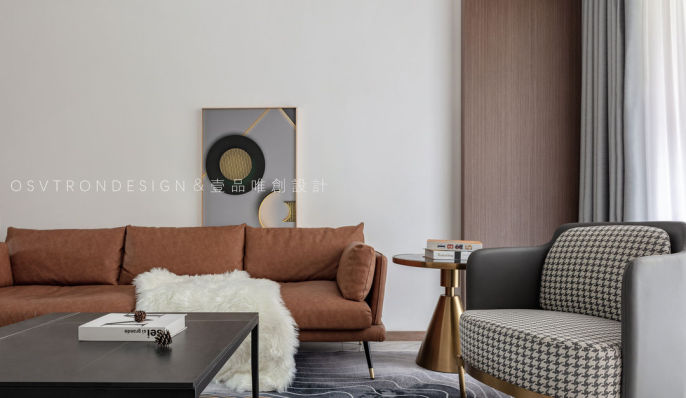 褐色的沙发增添了温暖的柔和感,搭配极具几何立体波浪感的地砖,呈现的是含蓄内敛又有包容力的美感,白色毛毯配上千鸟格纹的布艺沙发,充满精致感。
The brown sofa adds a warm and soft feeling. With the floor tiles with a geometric three-dimensional wave feeling, it presents an implicit and inclusive aesthetic feeling. The white blanket and the cloth sofa with thousand bird patterns are full of exquisite feeling.
客厅与餐厅呈开放式布局,确保空间采光与通透性;造型简约但却独具特色的现代家具、加上各式金属配饰,让空间更具时尚感。
The living room and dining room are arranged in an open style to ensure the lighting and permeability of the space; modern furniture with simple shape but unique features, together with various metal accessories, make the space more fashionable.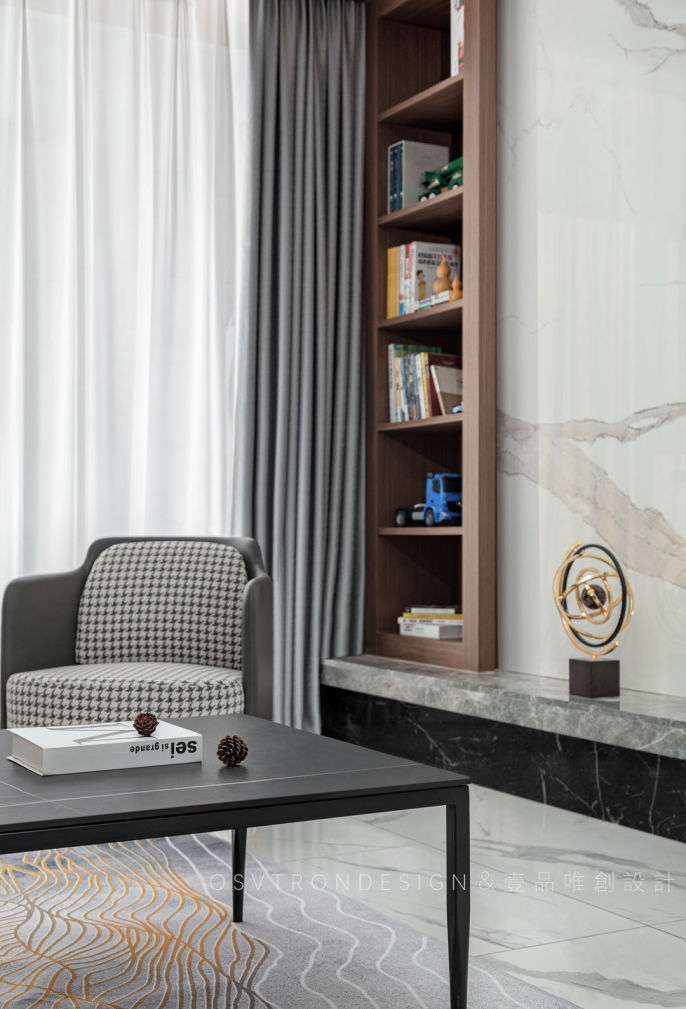 KD饰面板在空间的撞色起到了活跃空间重要作用,在白色墙面与质感大理石瓷砖的基础上,显得艳丽而不躁动。
KD decorative panel plays an important role in space color contrast, which is gorgeous and not restless on the basis of white wall and texture marble tiles.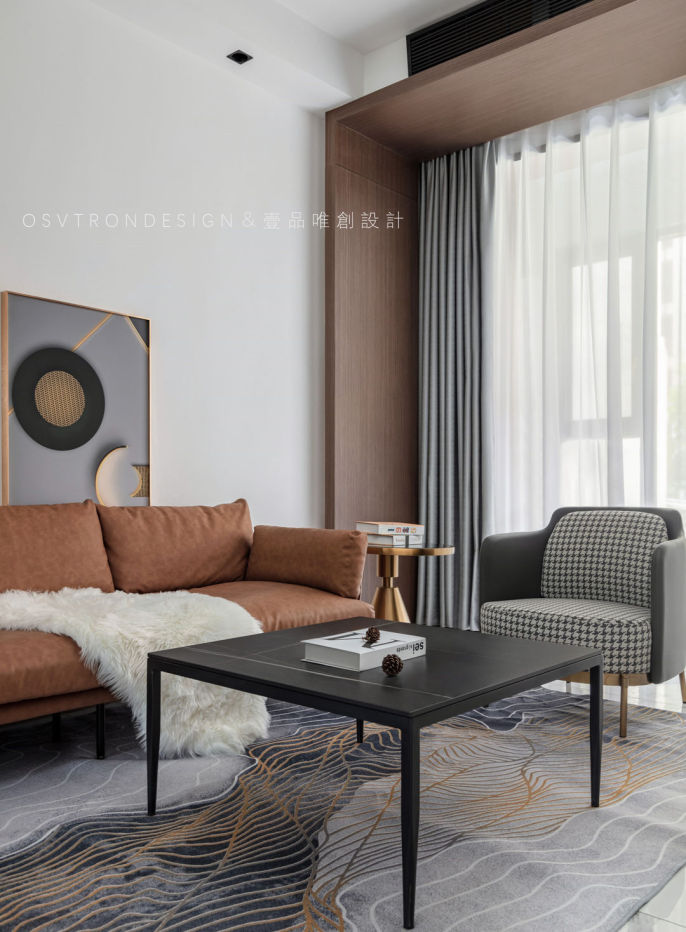 · 餐厅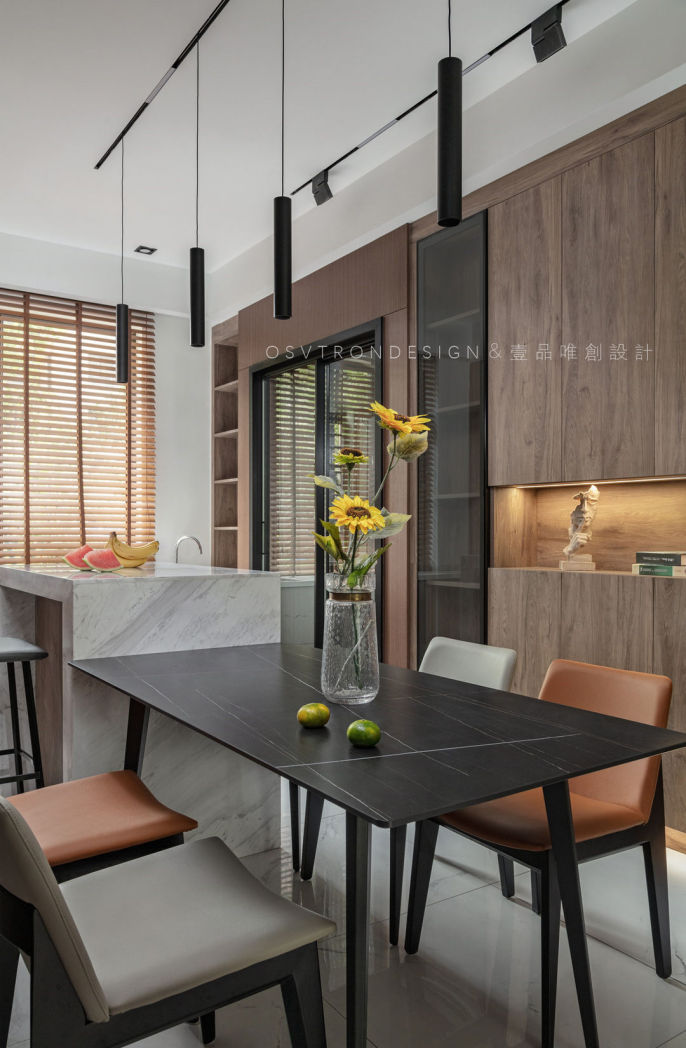 RESTAURANT
餐厅
-
餐厅内的黑色餐桌线条利落,造型简约,红灰色两种色彩的板凳,舒适大气,显现出小轻奢的格调。
The black dining table in the dining room has neat lines and simple modeling. The red and gray benches are comfortable and atmospheric, showing a small and luxurious style.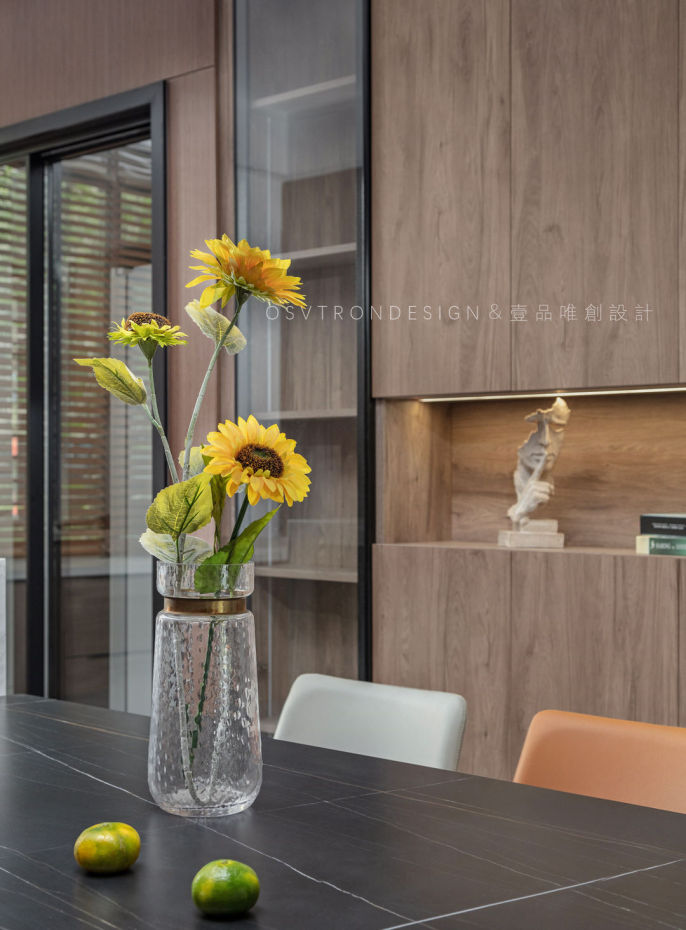 造型感十足的灯饰配上原木色的高品质储物柜,沉稳而不失格调;与半开放式的厨房融合在一起,画龙点睛般的给客厅增添了烟火气息。
The lighting with full modeling feeling is matched with high-quality storage cabinet of log color, which is steady and not out of tune; it is integrated with the semi open kitchen, which makes the finishing point to add the atmosphere of fireworks to the living room.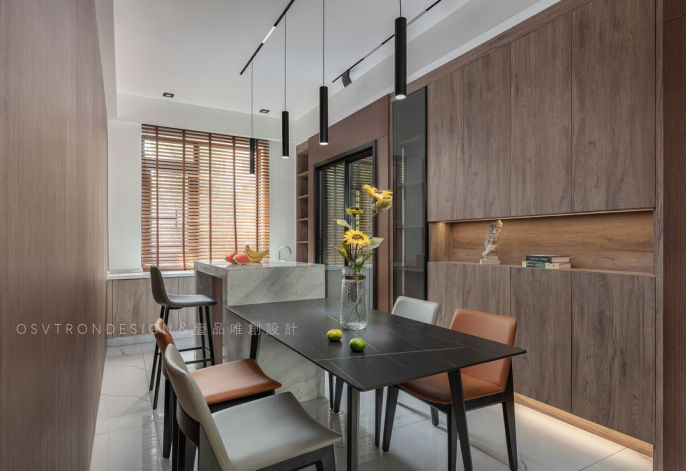 · 厨房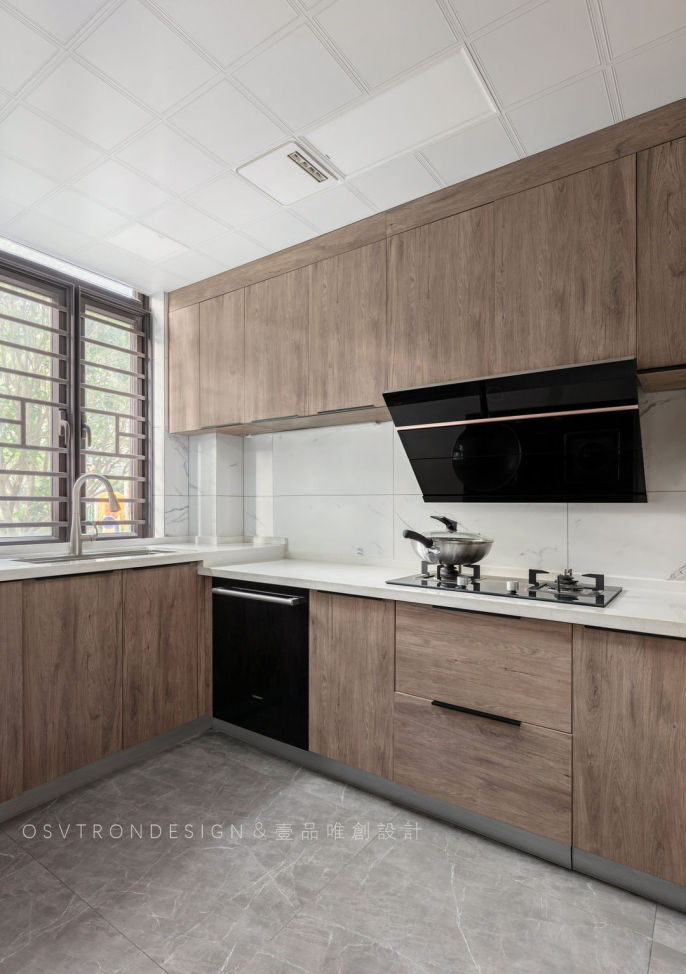 KITCHEN
厨房
-

L型布局呈现的厨房,整齐纹路的木质橱柜搭配大理石台面,简洁清爽,略带高低差的清理台的设计更符合人们日常的下厨习惯。
L-shaped layout of the kitchen, neat lines of wood cabinets with marble countertops, simple and fresh, slightly different height of the cleaning table design more in line with people's daily cooking habits.
· 卧室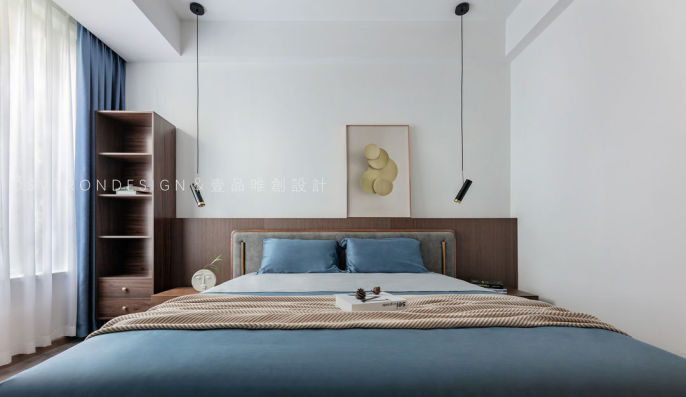 MASTERBEDROOM
主卧
-
卧室以柔和的蓝色为主,演绎出安定轻缓的生活节奏,原木家具,金属元素的点缀,令空间的层次变得更为丰富。
Bedroom is given priority to with downy blue, deduce the rhythm of life that is stable and light, the adornment of log furniture, metallic element, make the level of space become richer.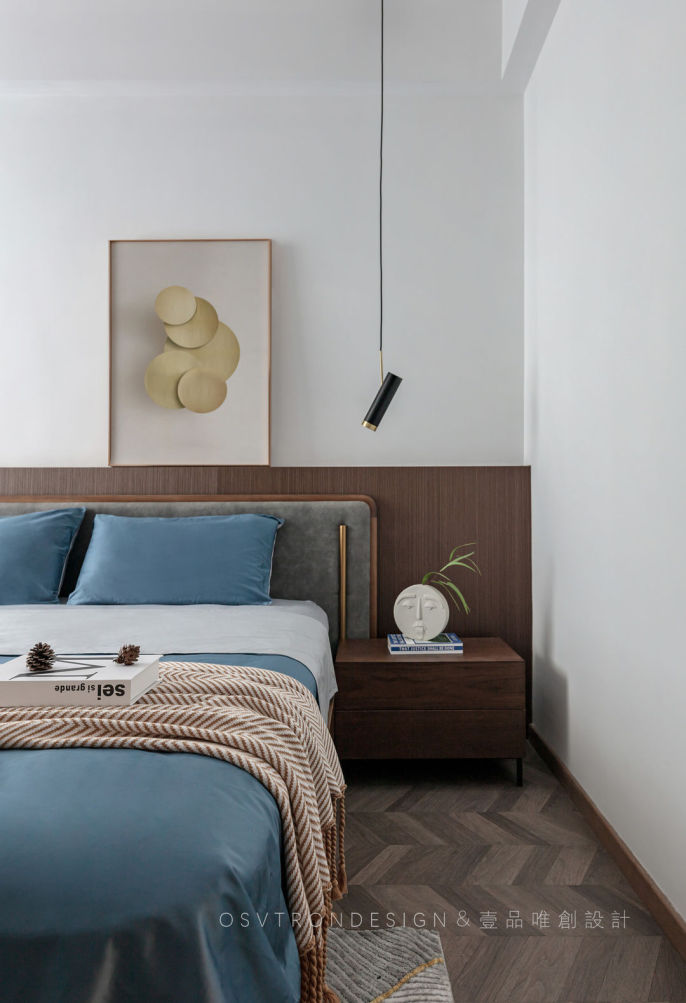 极具设计感的挂画、灯光的布置,结合优美典雅的木质家具,使得原本的空间变得更为简约随性。
The design sense of hanging painting, lighting layout, combined with beautiful and elegant wooden furniture, makes the original space become more simple and casual.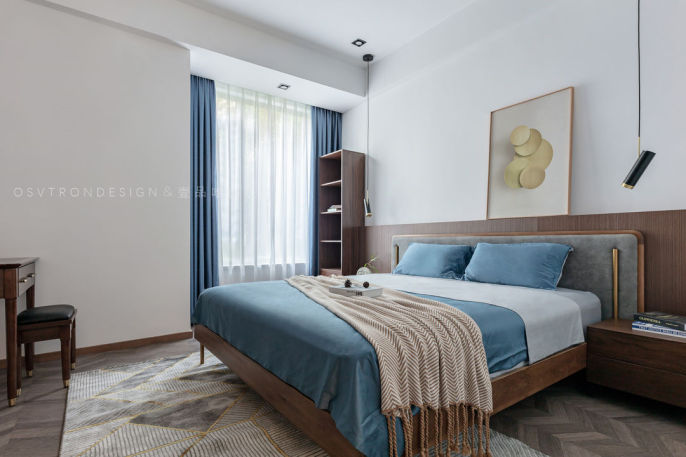 · 次卧室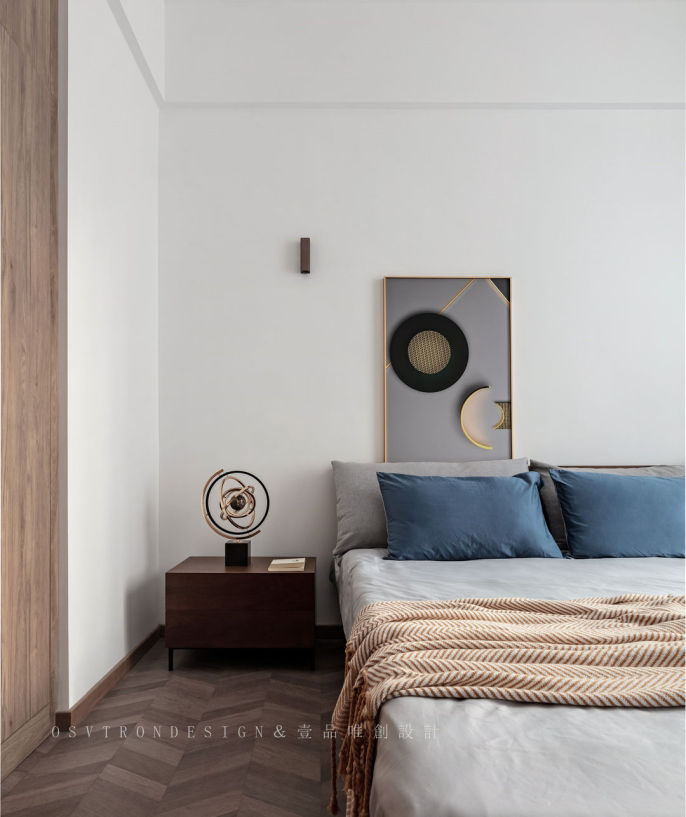 VESTIBULE
次卧
-
次卧浅色系的运用营造出温馨静谧的睡眠环境,简约大气的布置,时尚几何的布局还有灯光系统的烘托,给人以简雅大方的既视感。
The application of light color system in the second bedroom creates a warm and quiet sleeping environment, simple and atmospheric layout, fashionable geometric layout and lighting system, giving people a simple and elegant sense of sight.
· 卫生间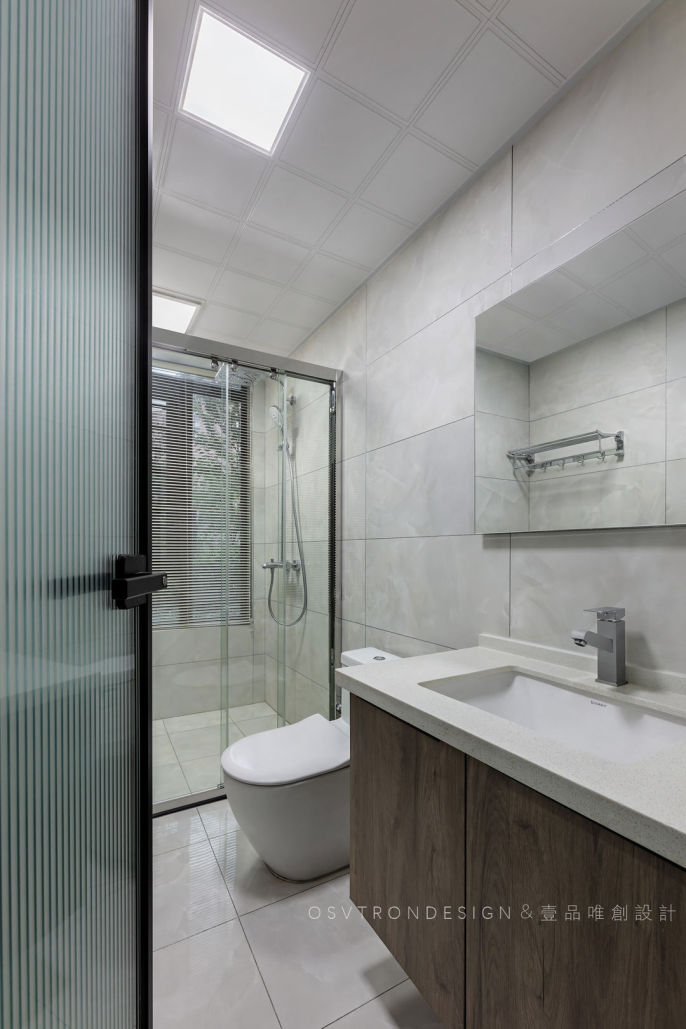 BATHROOM
卫生间
-
卫生间以干净清爽的白色墙面和原木橱柜为主,搭配水墨纹路的白色瓷,简洁且精致。The bathroom is mainly composed of clean and fresh white walls and log cabinets, with white porcelain with ink lines, which is simple and exquisite.
· 走廊
PASSAGE
过道
-